SmartDot Harmonises EMF Radiation
Do you use your mobile phone with reluctance? Are you uncomfortable or do you get tired working on your computer?

There is scientific and public concern that high exposure to electromagnetic radiation could have a detrimental effect on health. It is possible that numerous reasons for tiredness, lack of concentration, headaches, dizziness, irritability and depression are being caused by EMF radiation exposure.
The Energydots smartDOT is a low powered Magnet programmed with a high vibration natural energy to harmonise or retune electromagnetic radiation from wi-fi devices. Each cell in our body acts like an antenna, an extremely sensitive receiver and transmitter of electromagnetic radiation; the body will 'pick up' and react to the fields it is exposed to. Retune these fields and enable the body to relax.
How To Use SmartDOT
The SmartDOt is wafer thin and can be put on any wireless device which you feel contributes to any symptoms of electro-stress. For a mobile or cordless phone, the wafer-thin smartDOT can be inserted into the battery compartment if it will fit. Otherwise attach the DOT to your device (it does not interfere with the fit of a phone case).
The smartDOT does not have to go in a specific position on your equipment but ideally you would put one on each item. If you have a computer with a wireless keyboard and a monitor you will only need one smartDOT.
Use a SmartDOT on your devices:
- Mobile or cordless phone
- Laptop or computer
- Tablet
- Wi-Fi router
- Games console
- Baby monitor
- In your car
- TV/DVD unit
- Hairdryer
Medical Thermal Imaging Research
See the cooling effect in the head and right down the body when a smartDOT is applied to the phone.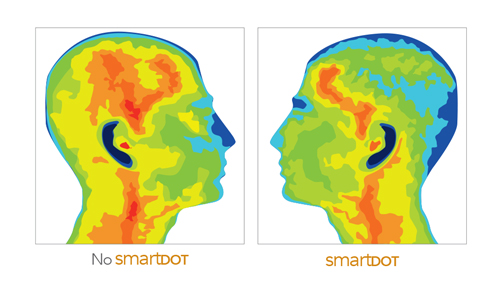 Red Blood Cells
See the Microscopy Research which shows red blood cells exposed to EMFs and the change when smartDOT is applied.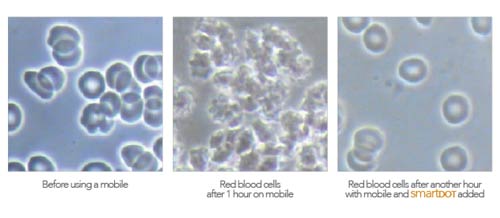 UK Mainland Delivery Charges (including Isle of Wight):
- £3.49 on all orders below £40.00
- FREE DELIVERY over £40.00

Northern Ireland and Isle of Man:
- £3.49 on all orders below £75.00
- FREE DELIVERY over £75.00

Scottish Highlands:
- £3.49 on all orders
We will dispatch your order as quickly as possible but please allow an approximate delivery time of 3 to 5 working days for busy periods.
UK Shipping costs are calculated in the shopping basket before you enter any personal details.
Overseas: Please email info@healthrange.co.uk for a quotation, advising your address and postcode.
Returns
You can return items within 30 days from receipt providing they have not been used and are still in their original packaging. To begin the returns process, please e-mail info@healthrange.co.uk and we will email you back with instructions and the return address (which may not be the address on your delivery note/invoice).
Full T&Cs - Please read our full Terms & Conditions Here.