TrionZ MAXI LOOP wristband contains powerful negative ion producing materials in the pod and patented ANSPO magnetic technology working together to produce effective levels of Magnetic and Ion therapy.

A clean, comfortable and functional design which is protected in the water, snow and the sun.

- Flexible, waterproof silicone band, ideal for an active lifestyle

- Polarized Pod Capsule containing 2 x 1,000 Gauss Magnets with Trion:Z patented ANSPO technology.

- Over 1,000 negative ions per second.

TrionZ are the only sports health wristbands to have Japanese medical approval and a Class 1 CE Mark.
Four colours and three sizes to choose from:
- Small: 16cm (6.3")
- Medium: 18cm (7.1")
- Large: 20cm (7.9")
Product Guarantee:
Product Guarantee: Trion:Z products are guaranteed for 6 months against defects and faults with any items purchased online from authorised retail partners. Claims against general wear and tear, failure to comply with product usage guidelines, misuse or accidental damage are considered as invalid claims.
Disclaimer:
Colantotte International dba. Trion:Z, nor its distributors, make any claim that any of its products are intended to prevent, cure, mitigate, treat or diagnose illness.
Safety: If you believe you have a health problem, you should consult a doctor or health professional.
There are a number of conditions where magnet therapy should not be used:
- During pregnancy
- Over an open wound, or in alongside any transdermal drug patch, as increased blood flow to these areas may not be desirable.
- If the person has a pacemaker, defibrillator or insulin pump, as magnets can affect the operation of such electro-medical devices
- Specifically over an area that has received a localized cortisone injection in the past 2 weeks
Size Guide
- Small: 16cm (6.3")
- Medium: 18cm (7.1")
- Large: 20cm (7.9")
Note: Recommended size is a guide only. Everyone's wrist is a different size and shape, some bangles may fit tighter than others.
You may also like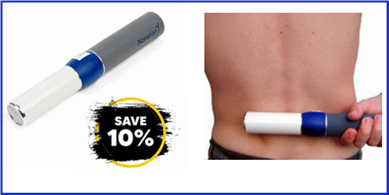 UK Mainland Delivery Charges (including Isle of Wight):
- £3.49 on all orders below £40.00
- FREE DELIVERY over £40.00

Northern Ireland and Isle of Man:
- £3.49 on all orders below £75.00
- FREE DELIVERY over £75.00

Scottish Highlands:
- £3.49 on all orders
We will dispatch your order as quickly as possible but please allow an approximate delivery time of 3 to 5 working days for busy periods.
UK Shipping costs are calculated in the shopping basket before you enter any personal details.
Overseas: Please email info@healthrange.co.uk for a quotation, advising your address and postcode.
Returns
You can return items within 30 days from receipt providing they have not been used and are still in their original packaging. To begin the returns process, please e-mail info@healthrange.co.uk and we will email you back with instructions and the return address (which may not be the address on your delivery note/invoice).
Full T&Cs - Please read our full Terms & Conditions Here.