About Q-Link?
Q-Link products are designed to balance and clarify your energies and are shown to help reduce the effects of EMF stress (electro-magnetic pollution) on your mind and body, allowing you to experience enhanced well-being, increased performance and improved quality of life.
Q-Link pendants are programmed with an array of natural frequencies that resonate with the body's natural energy frequencies. The resulting resonant effect is similar to the healthy, energizing experiences we have in nature, in positive interactions with others, and while participating in self-balancing, restorative activities.
At the very heart of all Q-Link® products is the proprietary crystalline core called Sympathetic Resonance Technology™ (SRT™). It is this SRT-core that reinforces the body's resonance, returning it to a clearer and more balanced natural state.
All pendants come with a black silk cord, but optional leather cords and bead chains are available to order seperately.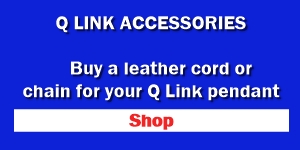 FAQs
What direction should I wear a Q-Link® Pendant?
They can be worn, and are equally effective, facing either direction, inside or outside clothing.
Do I ever need to recharge my Q-Link® wearable product?
No.
Will an airport x-ray damage my Q-Link® SRT™ product?
No. However, do avoid close proximity to industrial strength magnets, such as those found in an MRI machine.
Do Q-Link® wearable products have a power source?
Q-Link wearable products require no power source of their own. They work like a pre-programmed tuning fork, resonating with and strengthening the life-supporting information already present within the human biofield.
How often should I use my Q-Link® product?
To obtain the optimal range of potential benefits, Q-Link recommend you wear or utilize your product as often as possible.
Can children wear Q-Link®?
SRT is believed to be life supporting for any age. Parents should use common sense, especially with young children, to prevent accidental ingestion or hazard from anything worn around the neck.
Do Q-Link® chains or cords have any effect on their own?
No, SRT is only programmed into the primary product.
Disclaimer: These products are not medical devices nor are they intended to diagnose, treat or cure any medical or health condition. Please consult a health practitioner for any medical or health condition.
UK Mainland Delivery Charges (including Isle of Wight):
- £3.49 on all orders below £40.00
- FREE DELIVERY over £40.00

Northern Ireland and Isle of Man:
- £3.49 on all orders below £75.00
- FREE DELIVERY over £75.00

Scottish Highlands:
- £3.49 on all orders
We will dispatch your order as quickly as possible but please allow an approximate delivery time of 3 to 5 working days for busy periods.
UK Shipping costs are calculated in the shopping basket before you enter any personal details.
Overseas: Please email info@healthrange.co.uk for a quotation, advising your address and postcode.